Another decade has come and gone, and brought with it a veritable cornucopia of incredible movies. FinalBoss' Shaun Dearling takes a look at some the best films of the last 10 years.
---
December means one thing: Christmas roundup lists for the year. But in 2019, there's more to it. As this year ends in a 9, it also means we get lists of the decade.
I've seen a lot of films in the last 10 years, but I can't say I've seen them all – There's a lot after all. This is by no means meant to be the definitive best of 2010 -2019 movies list, but rather a look through some of my personal favourites from each year. They are certainly all worth watching. In the interests of variety, I've tried to pick a mix of movies and resisted the urge to include all 21 eligible Marvel movies.
Best Films of 2010
Talk about a creative dream team. David Fincher, director of two of my favourite movies of all time in Seven and Zodiac, and screenwriter Aaron Sorkin, creator of my favourite TV show of all time, The West Wing, come together to make The Social Network. A movie that makes drama out of the creation of a website (Facebook, in case you didn't know). Jesse Eisenberg and Andrew Garfield excel as the friends who create the social media giant and then fall out about it.
Off the back of arguably the greatest comic book movie of all time, The Dark Knight, Christopher Nolan directed an all-star cast – Di Caprio, Hardy, Levitt, Cotillard, Page and Caine – in Inception. A film built around dreams it will get you thinking, what is real? What is fantasy? Who knows but its fun trying to work it out.
12 years on from their second outing Woody, Buzz and the gang returned in Toy Story 3. Owner Andy is now all grown up and so the toys find themselves given away to a day-care centre. They make new friends and new enemies as they settle into their new surroundings. Great animation and a genuine sense of threat make this a winner.
Best Films of 2011
It feels like, at this time of year, we should include a Christmas movie and the animated Arthur Christmas is the best of recent times. Nice but dim Arthur is at the heart of the Claus family and steps up when things start to unravel at the North Pole. It features a strong voice cast and is guaranteed to put a smile on your face every December.
If you knew me, you wouldn't be surprised to see a sports movie may the list – and it's Moneyball. Based on Michael Lewis' book about the Oakland Athletics baseball team and their efforts (led by Brad Pitt's Billy Beane) to compete with their financially superior rivals. That means out with the old and in with the new and embracing analytics, a concept which has spread through most, if not all, sports now. It's co-written by Aaron Sorkin, so you know the screenplay will dazzle.
Best Films of 2012
The MCU launched with Iron Man in 2008, swiftly followed by films centred around Hulk, Captain America and Thor. In 2012 they came together for Avengers Assemble to take on Loki, one of the best villains in the series. The rivalry and squabbling in the group brings a lot of fun to the film to go along with the action sequences.
If for nothing else, Quentin Tarantino's eighth movie Django Unchained is worth watching for Christoph Waltz's outstanding performance as the brilliantly named Dr King Schultz. Schultz and slave Django (Jamie Foxx) team up with the latter desperately searching for his wife (played by Kerry Washington). Along the way they encounter Leonardo DiCaprio and many others. It's long but rewarding.
Daniel Craig's third outing as James Bond, Skyfall may be his best. (Certainly the best song, hello Adele). Featuring all the classic Bond allies M, Q and Moneypenny and a decent villain played by Javier Bardem, this has everything you'd want from a Bond movie.
Best Films of 2013
It's documentary time and here we have Blackfish, which focuses on orcas in captivity at SeaWorld and similar parks around the world. It particularly concerns a whale called Tilikum, who was involved in the deaths of three people. A controversial subject that will get you thinking, just what you want from a documentary.
Hands up if you were expecting a black and white American road movie. Well, you got one! Nebraska is a film about family, this one focusing on a father and son played by Bruce Dern and Will Forte (both Oscar-nominated for their roles) who go off on what could be described as a bit of an adventure much to the dismay of the wife/mother played by a brilliant June Squibb. Funny, sad and heart-warming.
The coming of age film of the decade, The Way, Way Back is a comedy-drama following a teenager, played by Liam Jones, on summer vacation. To avoid his abusive step day he gradually gets a job at water park and blossoms under the wing of Sam Rockwell. A real feel-good movie!
Best Films of 2014
Whilst (the very good) Rise … put the humans at the centre of the film Dawn Of The Planet Of The Apes puts more of the emphasis on the apes. Motion capture guru Andy Serkis is back to portray leader Caesar who looks amazing. Just like people, the apes are riddled with personality clashes and rivalry and there's plenty of tension as they encounter Jason Clark's small band of humans. (Can we all agree they named these films the wrong way around, Dawn comes before Rise, right?)
Back to the MCU for Guardians Of The Galaxy. Fair to say these were not a mainstream group of characters, but the space gang instantly made themselves fan favourites. Chris Pratt, transitioning from TV (shout out to Parks and Recreation) to movie mega-star leads the cast as Star-Lord. When it was released, this was the funniest entry in the MCU, with the usual terrific action scenes mixed with a group of interesting and unusual characters and a killer soundtrack.
Best Films of 2015
Jurassic Park was the first film I saw at the cinema. 22 years on from the original (and after 2 sequels) the franchise returned. This time not just a park, but Jurassic World. Chris Pratt leads the cast as Raptor trainer Owen Grady. The family stuff is fine but the dinosaurs are the stars, especially the underwater dino, the mosasaurus, which gets some of the best scenes, not just in this film but the entire series.
It was a strong decade for space movies but none were better than Ridley Scott's The Martian. When Matt Damon's astronaut is stranded on Mars he has no volleyball for company, but he does have science. The film cuts dramatically between the red planet and the rescue attempt. Bonus points for Lord of the Rings references.
Star Wars returned with The Force Awakens, under the guidance of JJ Abrams. Straight away this felt more like the original trilogy than the prequels. Some felt it had too much in common with them but it didn't bother me. Immediately swept along by the adventures of the new cast of characters, particularly Adam Driver as new baddie Kylo Ren, and some old ones, this was a triumphant return.
Best Films of 2016
Take beautiful people, Emma Stone and Ryan Gosling, take a beautiful place, Los Angeles, take a great soundtrack, call it La La Land and you'll spark a musical revival. It's fully deserving of all the plaudits it received.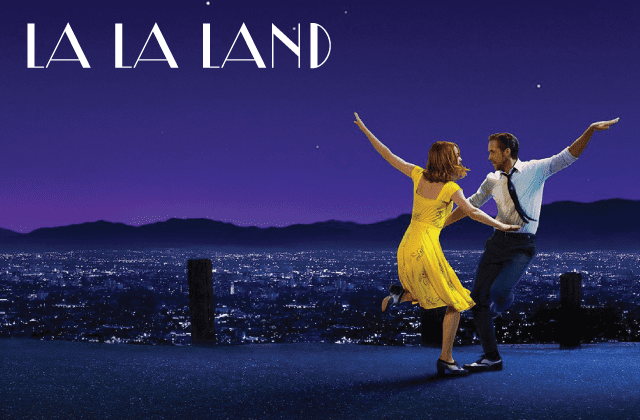 Hell or High Water is a fairly simple film, following Jeff Bridges' Texas Ranger in pursuit of a pair of bank-robbing brothers played by Chris Pine and Ben Foster. It's a straightforward setup but very effective with a tight running time to keep things tense as events build to the climactic shootout.
After purchasing the Star Wars license Disney decided two years between films was too long, so the came up with a new idea, an anthology series subtitled A Star Wars Story. First entry: Rogue One, taking place before Episode IV and concentrating on the rebel plot to steal the plans for the Death Star. I get that it may not have been needed, or it doesn't add much to the overall story but I love it. Interesting new characters, some beautiful locations (Scarif) and an iconic finale featuring Darth Vader at his absolute monstrous best leading us neatly into A New Hope.
Hands up if you thought Pete's Dragon was going to be on this list? About as good a family drama as you can find in my opinion. The story of young Pete who survives tragedy to grow up in the woods with his dragon friend is just perfect. He's having a lovely time those woods until the grown-ups show up and start interfering. The strong cast of adults – Bryce Dallas Howard, Wes Bentley, Karl Urban and Robert Redford provide earnest support to young Oakes Fegley in the lead role.
Best Films of 2017
Edgar Wright's Baby Driver races along at a breakneck pace, as Ansel Ensort's Baby tries to get away from his life as a getaway driver for crime boss Kevin Spacey to live happily with girlfriend Lily James. It features strong names in supporting roles (Hamm, Foxx, Bernthal). There are shootouts, car chases and an excellent soundtrack.
That musical revival we talked about continued with The Greatest Showman. PT Barnum dreams big and then achieves big with his band of misfits circus. Hugh Jackman is enjoying himself hugely as the ringleader with Michelle Williams, Zach Efron and Zendaya lending quality support. It looks good, feels good and has a host of memorable songs.
One of the few instances of DC being ahead of the MCU, they had a woman leading a superhero movie. Gal Gadot stars as Diana Prince aka Wonder Woman. The opening scenes on Themyscira are beautiful to look at and have some great old fashioned-ish island action. That's followed by some slightly predictable, but well done, fish out of water stuff as WW finds herself in the modern world before the inevitable familiar big bad comic book movie finale.
Best Films of 2018
With the world overrun by creatures that hunt by sound, silence is golden. Real-life husband and wife John Krasinski and Emily Blunt star together in A Quiet Place. How the couple try and protect their young family makes compelling viewing. It's creepy and tense with one scene in particular nailed on to have you squirming in your seat.
After a decade of movies, this is what we were building to, Avengers Infinity War. Everybody came together, and with all the anticipation and the pressure 10 years of build-up they delivered. Given the size of the cast, there were always going to be characters who get more moments than others and they generally do a good job of giving something to everyone. One amazing set piece after another, plenty of humour and a stunning climax followed by a WTF does that mean end credits sequence. Just brilliant. And this was only part 1!
Another year, another musical. From first time director Bradley Cooper, A Star Is Born follows ageing star Jackson Maine (played by Cooper) who meets, loves and helps Ally (Lady Gaga) to fame. Essentially as one star fades another rises, causing a mix of emotions for all concerned. All together "We're far from the shallow now"
Best Films of 2019
Set in Luton in the 1980s Blinded By The Light follows Javad (Viveik Kalra) as he tries to find his way in life. He's introduced to the music of Bruce Springsteen which inspires him and changes his outlook. With the music of The Boss booming it's very easy to get swept along for the ride.
Ready Or Not features a young brides (Samara Weaving) introduction to her new family's game night, which also happens to be her wedding night. The large family has plenty of quirky personality which is on full display as the bride is drawn into a game she may not want to play. Dark, gory and very funny.
Rian Johnson followed up his entry into the Star Wars universe with Knives Out, a murder mystery in the style of Agatha Christie. Daniel Craig is the detective and an all-star cast feature as the family of the deceased. It doesn't play out quite as you might expect which makes it all the more interesting.
Happy New Year!
If you enjoyed this article please consider checking out more of our movie coverage.
Shaun is FinalBoss' most prolific cinephile. If he hasn't seen it, it ain't worth watching. You'll find him writing about everything from blowout blockbusters to small-screen splendours as he waits impatiently for Lord of the Rings to be released by Amazon. Catch up with Shaun and see what he's been watching on www.letterboxd.com/shaun_1982.