The Consumer Electronic Show (CES) is a window into just how crazy our world can get. From an Avatar-inspired Mercedes car to a toilet paper delivery robot, we truly have seen the madness level go up at this year's exhibition.
However, behind all this madness, CES is still fundamentally about technology that can change our lives, and products that will be a reality very soon. Sure you might have to drop a pretty penny for it, but there are a few gadgets that can impact us in meaningful ways. Unlike a yellow ball from Samsung. So without further ado, here's the best of CES 2020. Products that you will actually use.
Best of CES 2020 #1: Withings ScanWatch
French smartwatch maker Withings has decided to foray into sleep tracking. The ScanWatch is a hybrid device that has the ability to detect sleep apnea. This is a really big break, as sleep apnea is a major health hazard. Well deserving in this line up of the best of CES 2020, the watch uses optical blood oxygen sensors to sense disturbances in sleep, and offers other health features like ECG, heart rate and activity tracking. If you want a classy looking smartwatch, the ScanWatch could be the one for you. The 38mm version will retail for $249/£229, and the 42mm model for $299/£279. It should be available in Q2 of 2020, once approved by the FDA and European CE.
Best of CES 2020 #2: BrainCo prosthetic hand
Robotics startup BrainCo brought AI to prosthetics. The hand comes with multi channel EMG signal detection, allowing wearers to move it just like a real hand. During the demo, the company showed off the ability to program calligraphy writing and even to play the piano. Users will be able to programme their own capabilities in a very short time span. Users can also control each finger individually, making it by far the most advanced prosthetic to be introduced. Once approved by the FDA, the prosthetic will go on sale at a cost between $10,000 and $15,000, which is only a fraction of what most advanced prosthetic hands cost.
Best of CES 2020 #3: August Wi-Fi smart lock
Building on its Smart Lock Pro, smart home company August has introduced a new smart lock that "just works". There's no need to replace your deadbolt, or worry about being stuck with a single ecosystem. The Wi-Fi smart lock was created in partnership with famed industrial designer Yves Béhar. The size of a standard door knob, this lock works with Amazon Alexa, Apple HomeKit and Google Assistant and is powered by two CR123 batteries. The device will hit retail shelves later this year.
Buy the August Wifi Smart Lock
Best of CES 2020 #4: LG ThinQ washer
If you struggle to remember the settings for your washing machine, this is the appliance for you. LG is the first company to bring meaningful AI to electronic appliances. The ThinQ will automatically detect the size of the load, and the quality of fabrics. It will then recommend the appropriate washing and drying cycles. The same goes for the amount of detergent. If you use Alexa, the ThinQ will connect with Amazon's assistant via LG's ThinQ mobile app to notify you when detergent is running low. The device will be available in North America in Q1 2020, with other regions to follow. Pricing is yet to be announced.
Best of CES 2020 #5: Dabby
As the number of streaming services increase, so does the frustration to find our favourite movie or show. Thankfully the Dabby takes the pain out of that. For $400, this 7" touchscreen device paired with a TV dongle will search all your subscriptions, free websites and social media. It works with touch or voice, and can even control different TV's in different rooms. Advanced AI algorithms allow you to play any scene you like, and even offer suggestions if you don't know what to watch. To top it off, it works with music and podcasts as well. Dabby will be available in the US from March, there's no word on international availability.
Best of CES 2020 #6: Samsung Galaxy Chromebook
Chromebooks have always been on the lower end of the market, but Samsung decided it's time to up the game. Starting at $999 (8GB RAM and 128GB storage), this is the most expensive Chromebook yet, and Samsung certainly made sure to justify the price. With a 13.3" 4K AMOLED display, the Galaxy Chromebook is powered by Intel's 10th Gen Core-i5 Processor. Other features include 360 degree display, fingerprint sensor, USB-C ports and an S Pen. And oh it comes in a bright red (and grey if you aren't happy standing out) finish as well. It will launch in Q1 2020 in the US first.
Best of CES 2020 #7: Y-Brush
Too lazy to brush your teeth? Well then this is the perfect solution for you. French company FasTeesH has announced that the dental miracle is now available to buy, but it won't ship until March. First demoed at CES 2019, the Y-Brush is basically a mouthguard with nylon bristles, powered by a small motor. The motor vibrates the bristles that can clean one half of your mouth in just five seconds. A fully charged battery should last you a month, and the device comes with a charging stand as well. It retails for $125, and replacement brush heads cost $30 a piece.
Best of CES 2020 #8: Samsung Sero
As TikTok has taken over our smartphones, vertical video has made its way to mainstream TV's. Samsung's Sero is a 47" TV that can rotate between vertical and horizontal, automatically if you are on Android (sorry iOS users, you will need to install the Samsung SmartThings app). The display is QLED 4K one, so it should provide decent video output. It clearly is Samsung's way of appealing to the TikTok and Instagram masses, but at 1.89m KRW (around $1,600) this is one very expensive display. The Sero will go on sale in South Korea in May, before launching in the US and UK later this year.
Best of CES 2020 #9: TCL 10 5G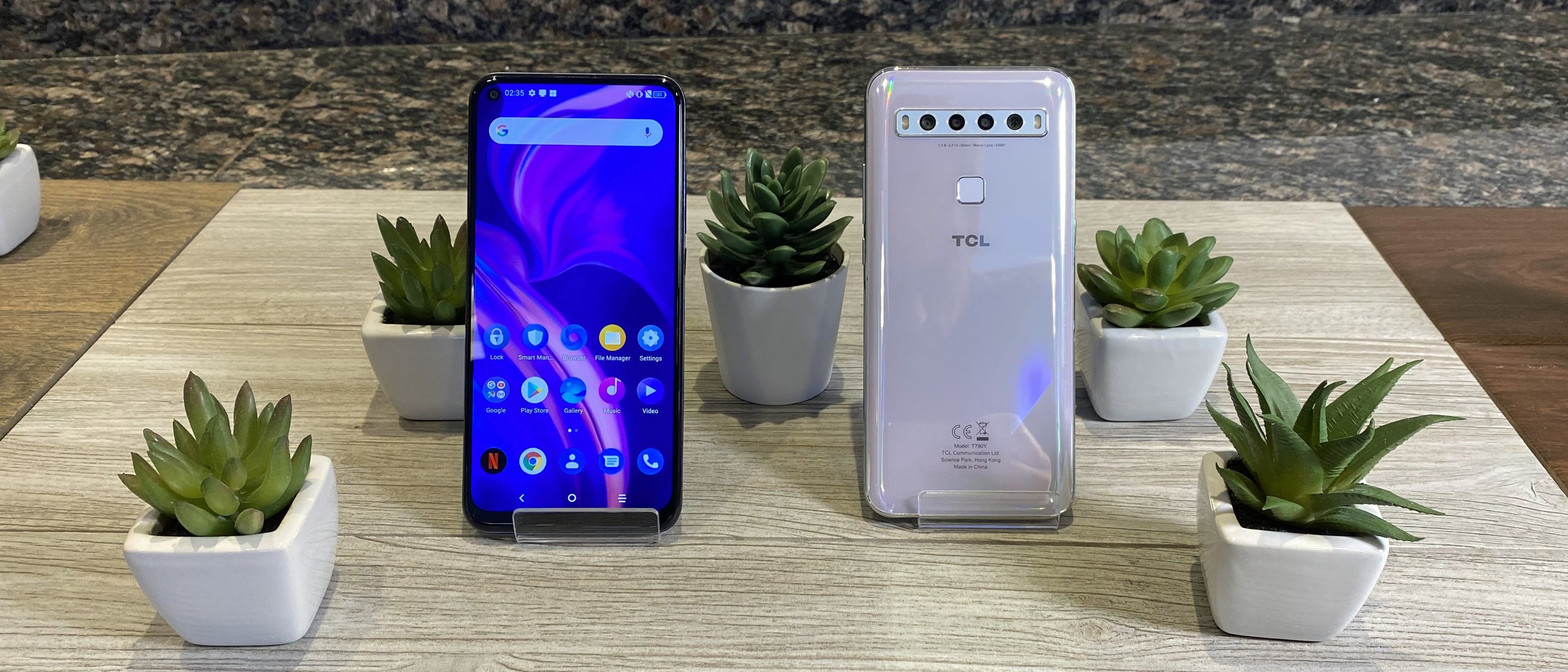 As 5G makes it way across the globe, TCL is the first company to announce a 5G handset under $500. Running Qualcomm's Snapdragon 7-series 5G SoC, the device comes with four rear cameras. The glossy 'split light' back finish is certainly appealing. The device comes with a fingerprint sensor (on the rear), USB-C and the much-loved headphone jack (at the top). Not much is known about the device, which was launched alongside TCL 10 Pro. Expect more details during the Mobile World Congress in Barcelona in February. The device will launch in the US and Canada in Q2 for under $500, but the exact price is not known.
Best of CES 2020 #10: Belkin Soundform Elite
If you miss your iPod Hi-Fi, Belkin's Soundform Elite is the closest you can get with your shiny new iPhone (or Samsung). This smart speaker, with Google Assistant built in comes with a really cool Qi-enabled wireless charger on top. The speaker is cleverly designed to suppress vibrations that can knock the phone off the charger, even when played at full volume. No doubt more companies will get into the act, but for now, Belkin is the first to provide a speaker with wireless charging. It will be available for $300 from Q1 2020 in white or black.
With 3 years experience in journalism prior to joining the FinalBoss team, Srivats has made a name for himself as the go-to guy for in-depth analysis and technical pieces. From the latest gadgets to major launches announced by the biggest tech brands, Srivats brings you content that keeps you in the know.