What Are BFGD Monitors? An Overview of Big Format Gaming Displays
BFGD monitors, otherwise known as big format gaming displays, are 2020's most interesting new addition to the world of gaming. As you might have guessed from the name, BFGD monitors are all about massive gaming screens designed to provide gamers with the ultimate in immersive gameplay. These 65+ inch monsters carry a hefty price tag, but they carry that price for a reason. There is nothing else quite like BFGD monitors when it comes to the ultimate gaming experience.
But what makes big format gaming displays better or more suited to gaming than other large TVs and monitors? It all comes down to two things:
The sheer scale of these behemoth monitors
The technology housed within the BFGD monitors themselves.
The Secret Sauce of BFGD Monitors – G-Sync Ultimate:

Size is size. Anyone can make a big screen, but very few companies can pull off a BFGD monitor, and this is a result of the tech inside. The technology that sets these big format gaming displays apart from traditional monitors and TVs starts and ends with Nvidia, the unquestionable leader in the Graphics Processing Unit (GPU) market.
Famed for its advanced gaming technology and superior graphics hardware Nvidia has spent years developing systems that allow for gamers to experience another level of immersive displays, and they call it G-Sync.
What is G-Sync Technology?
G-Sync by Nvidia boasts 'smooth, tear-free immersion' as the biggest feature.
Most, if not all gamers will be familiar with screen tearing, those jagged lines on the screen that occur when you move the camera around your gaming environment. They happen because there is a mismatch between your system and monitor, where a computer's GPU render rate does not align with the refresh rate of the monitor, causing janky visuals.
G-Sync essentially offers a smart solution to this problem and matches up refresh rates with render rates to ensure gameplay is always smooth right up to the maximum refresh rate of the monitor. It's a process called VRR or variable refresh rates.
When talking about G-Sync, and the incredible visual experience it offers gamers, we already have to address the elephant in the room: FreeSync.
G-Sync vs FreeSync: Getting BFGD Monitors Right
For all the benefits of G-Sync, it's not the only technology that is capable of offering improvements to gaming visuals for monitors. FreeSync, by AMD, promises similar solutions, particularly in response to screen tearing. Both aim to cut down on imperfections in visuals while you play, but there is a catch. G-Sync monitors need to have an Nvidia G-Sync module built into the hardware, while AMD FreeSync is more of an open standard and be can be introduced to any monitor during its production without certification from any third party.
Why would any gamer opt for a G-Sync monitor, let alone an expensive BFGD monitor, when FreeSync monitors offer the same thing at a cheaper price?
Well, because they don't offer the same thing.
Quality
In order for a monitor to be deemed worthy of being sold with G-Sync technology certification, such as BFGD monitors, it must pass hundreds of performance tests that verify it meets the acceptable standards of Nvidia. This means that G-Sync monitors are marked with a quality that FreeSync monitors are not.
In fact, when Nvidia released a GPU driver in early 2019 which allowed support for Nvidia's VRR technology on FreeSync monitors, Nvidia tested 503 FreeSync screens and found only 28 (that's 5%) passed their standard certification tests.
Safe to say then that all monitors with the VRR feature set are not created equal, because the quality of the monitor is just not guaranteed at all, nor is the consistency of performance you actually get out of FreeSync.
Limitations of FreeSync
FreeSync also has a limitation on what framerates it can actually operate at. For example, a monitor using FreeSync might cap out at 100hz, which translates 100 image frames shown on a screen per second, and won't kick in until a monitor is refreshing above 48hz. That means if you ever see dips below 48 FPS, or rise above 100, FreeSync will stop working and you'll either see screen tearing or display lag kick-in.
G-Sync, however, does not have these limitations and will work from 1hz to the highest refresh rate your monitor can display, giving you those silky smooth frames all the way up and down the FPS spectrum should your framerate change during play.
The Price Difference
It's also worth noting that while there is no premium on monitors that are FreeSync compatible, unlike G-Sync monitors, it's also not free to adapt the screen with AMD's product which means the price gap isn't some wide yawning chasm. You're looking at paying around £100-£200 for the benefit of G-Sync integration over FreeSync.
In a high-performance gaming world where monitors cost thousands, you have to ask yourself, are you willing to pay less and take a risk on the quality of your experience?
For all-round quality, G-Sync offers a better solution and the more reliable performance for gamers. The price may be higher, but it's not a deal-breaker. The quality purely outweighs the negatives.
Which brings us to big format gaming displays.
Introducing BFGD Monitors: HDR G-Sync Ultimate Products
The Cutting Edge Of Monitor Technology
Gamers looking for an immersive gaming experience need BFGD monitors in their lives, period. BFGD monitors are the only large-scale hardware available that is capable of fully realising the graphical power of modern-day advanced GPU technology like Ray Tracing. What we're referring to here is, of course Nvidia's RTX line up of graphics cards and that sweet sweet Ray Traced HDR lighting that literally changed the way we view video games.
G-Sync Ultimate
As a development on G-Sync, G-Sync Ultimate takes the technology of G-Sync to the next level by incorporating an advanced HDR 1000 certified module that lets gamers soak up realistic HDR visuals. Full, glorious HDR 1000 is brightness variability technology that is as close to natural light as we can currently achieve on any screen.
Many screens are available that provide HDR 1000 technology. There are also plenty of monitors available that can handle G-Sync. However, G-Sync Ultimate BFGD monitors are the only gaming screens on the market that offer both the full range of HDR 1000 brightness while also enabling all the performance advantages of G-Sync technology.
One without the other is impressive, but together they create something absolutely extraordinary, and thus BFGD monitors become the pinnacle of gaming visuals.
G-Sync Is Better Than Freesync
This brings us back round to G-Sync's superiority over FreeSync, and why the price gap between the two technologies is justified. FreeSync monitors are commonly found with HDR 400, which means they are far below the quality ratings required for BFGD monitors. While a handful of FreeSync monitors can be found at HRD 600, these products just cannot match the guarantees of G-Sync Ultimate certified BFGD monitors. You may achieve the same smooth visual experience under the right circumstances, but the actual quality of the display will always be inferior, even if other conditions are met.
In order to be certified by Nvidia as true BFGD monitor, HDR 1000 capable hardware has to pass over 300 high-quality performance tests. Then, and only then, will the graphics and technology brand allow retailers to declare the device as a G-Sync Ultimate BFGD monitor. As a result, there are currently only three big format gaming displays available to buy in 2020.
The Best BFGD Monitors for Gamers: Big Format Gaming Displays Available in 2020
As of January 2020, there are only three screens certified by Nvidia as genuine BFGD monitors. This makes the market tight, but it that also makes it easy for gamers to find the ultimate in massive gaming monitor experiences. Really, when you've only got three to choose from, and BFGD monitors are the must-have gaming screen, having only a small selection is actually a god-send. You don't need to worry about what to buy. You just click order and wait for your favourite new toy to arrive.
Which BFGD monitor should you buy?
Top Pick for BFGD Monitors: ASUS 
ASUS ROG Swift PG65UQ Big Format Gaming Display
---
Panel Size: 

Wide Screen 64.5" (163.9cm) 16:9

Panel Type: VA

Brightness:

1000 cd/㎡ (Peak)

Response Time: 14ms (grey to grey) / 4ms (grey to grey overdrive)

Refresh Rate(max) : 

144Hz

Resolution: 4K (3840 x 2160)
High Dynamic Range (HDR): VESA DisplayHDR™ 1000
Dynamic Local Dimming: 384 Zones

Stereo Speakers:

 15Wx2 Stereo RMS

Supports variable refresh rate (VRR) on Xbox One* via HDMI port
Of the three available BFGD monitors on the market in 2020, the ASUS ROG Swift PG65UQ is our top choice. We don't need to breakdown the tech details for you, because if it's certified by Nvidia as an official big format gaming display, you know the quality and performance is there. Very little actually separates the BFGD monitors you can buy when it comes to visual quality and gaming experience, and at the end of the day, that's what you buy it for. The ASUS ROG Swift claims the top spot on customer feedback and feedback alone. A firm fan-favourite amongst gamers, this monitor is so popular that ASUS have had major stock issues. Currently, it is unavailable in the USA with very limited availability in Europe. If you want to get your hands on one, you need to monitor availability carefully and order as soon as you can.
The Other BFGD Monitors: HP's Omen X & LG's

OLED65E9PUA
There are two more options for gamers on the hunt for big format gaming displays if the ASUS is not available. First we have:
HP's Omen X Emperium Big Format Gaming Display
---
Panel Size: 

Wide Screen 64.5" (163.9cm) 16:9

Panel Type: VA

Brightness:

1000 cd/㎡ (Peak)

Response Time: 14ms (grey to grey) / 4ms (grey to grey overdrive)

Refresh Rate(max) : 

144Hz

Resolution: 4K (3840 x 2160)
High Dynamic Range (HDR): VESA DisplayHDR™ 1000

Stereo Speakers :

 4 x 77mm, 2 x 25mm, 4 passive radiators

Local Dimming: 384 zones
Built-in: NVIDIA® SHIELD™ TV
In terms of technical specs, there really is very little difference between the ASUS and Omen X Emperium. They've got varying additional features but these will make little difference when it comes down to the overall quality of visuals and performance while gaming. The only reason this is not up there next to the ASUS ROG Swift is due to the unfortunate dimming of the backlighting, which can reduce the impact of the powerful visuals. It's certainly leagues ahead of other gaming monitors, but it doesn't quite have the edge on the ASUS. If you've got a choice, we recommend the ASUS, but if you don't, and you're ready to get into big format gaming displays, the Omen X Emperium is still a fantastic BFGD monitor.
No products found.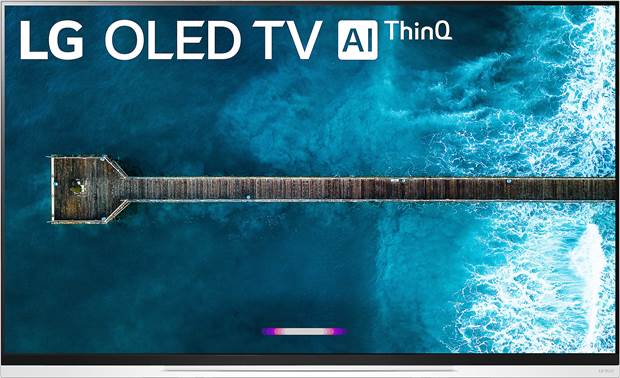 LG's

OLED65E9PUA
---
Panel Size: 

Wide Screen 64.5" (163.9cm) 

Display Type: OLED

Display Resolution:

4K Ultra HD

Picture Processor:

α9 Gen 2 Intelligent Processor

High Dynamic Range (HDR): 4K Cinema HDR (Dolby Vision®, HDR10, HLG), HDR Dynamic Tone Mapping Pro

Sound System:

Dolby Atmos

Dimming Technology: Pixel Level Dimming
This is an odd one, because while it's certified by Nvidia as a BFGD monitor, it's actually a TV. The LG OLED65E9UA (a catchy name) has achieved its status as a big format gaming display because it's successfully integrated G-Sync at the massive size of 65 inches. Those with tech knowledge, however, will be quick to point out that a OLED TV cannot reach HDR 1000 as specified by the requirements for G-Sync Ultimate. They wouldn't be wrong, which is why this is not G-Sync Ultimate but instead G-Sync compatible. The reason it's been accepted into the prestigious BFGD monitor line-up is that it comes so close it's difficult for the human eye to detect the differences in picture quality due to the lack of HDR 1000. But we won't lie, they are there.
What sets this apart from the ASUS and Omen X, however, is that it's a smart TV. This means it has a lot of additional features that the other BFGD monitors don't. We can't deny, that's a tempting proposition, even if it does come with some minor technical differences, especially for gamers who want to hook up their BFGD monitors in a shared living space. With the LG, you can get the amazing big format gaming display experience while also having a typically functioning TV that has all the connectivity benefits that come with a standard smart TV.
It's not the choice for absolute big format gaming display perfectionists, which is why it isn't ahead of the ASUS, but if you can live with a slight compromise, it's a great option for stunning gaming experiences, and cinematic experiences alike.
No products found.
Ryan is your local game aficionado. A master button basher with years of dedicated gaming under his belt, he'll constantly be keeping you up to date with all the latest releases.