Let's face it, you knew this day would come. After trying to download Final Fantasy 16, you realized that your hard drive is as full as Disneyland on Thanksgiving. Do you really want to delete your GTA5, Call Of Duty, Fifa 23 or yet again Hogwarts Legacy, or is there a better solution?
While the PlayStation 5 is a remarkable machine, its storage space is not infinite, and you may need to expand it.
Luckily, the folks at Sony have thought ahead and provided you with a simple solution to upgrade your storage: the M.2 SSD. You might be thinking: "ok, that's easy peasy." And it is!
You just need to know what you're looking for, and how to set it up. That's why you're here, right? So, let's get started.
Specifications to look out for
Before you begin the upgrade process, it's crucial to choose a compatible M.2 SSD for your PS5. These are the specs you want to keep in mind:
Form Factor: The SSD must have an M.2 2280 form factor (22mm width and 80mm length).
Interface: The drive should support PCIe Gen4 x4 NVMe.
Performance: Aim for a minimum sequential read speed of 5,500 MB/s.
Cooling Structure: Ensure that the SSD has an appropriate cooling solution, such as a heatsink or heat spreader.
In case you are looking for more information on all the PS5 compatible hard drives, we have a great article listing the best PS% SSD currently on the market.
For the purpose of this tutorial, we have used the Samsung 980 PRO 1TB M.2 SSD.
Don't worry, it doesn't matter which SSD you end up choosing, the steps remain the same.
Preparation: Gather Tools and Backup Your Data
Before starting the upgrade, grab your toolbox and do a quick backup of your data to avoid any potential loss.
Tools: You will need a small Phillips-head screwdriver and a pair of tweezers.
Backup: Create a backup of your game data and settings using either the PS Plus Cloud Storage or an external storage device.
Step by Step Guide on How to Install a SSD In Your PS5 Using the Samsung 980 Pro M.2 SSD
Step 1: Power Down and Disconnect Your Playstation 5
To begin the upgrade process, power down your PS5 and unplug all cables. Wait for the console to cool for at least 30 minutes before proceeding to the next step.
Step 2: Remove the PS5 Cover
Place your PS5 on a flat, stable surface with the PS logo facing down. Carefully slide the cover off by applying pressure to the top corner and sliding it away from the console. Set the cover aside.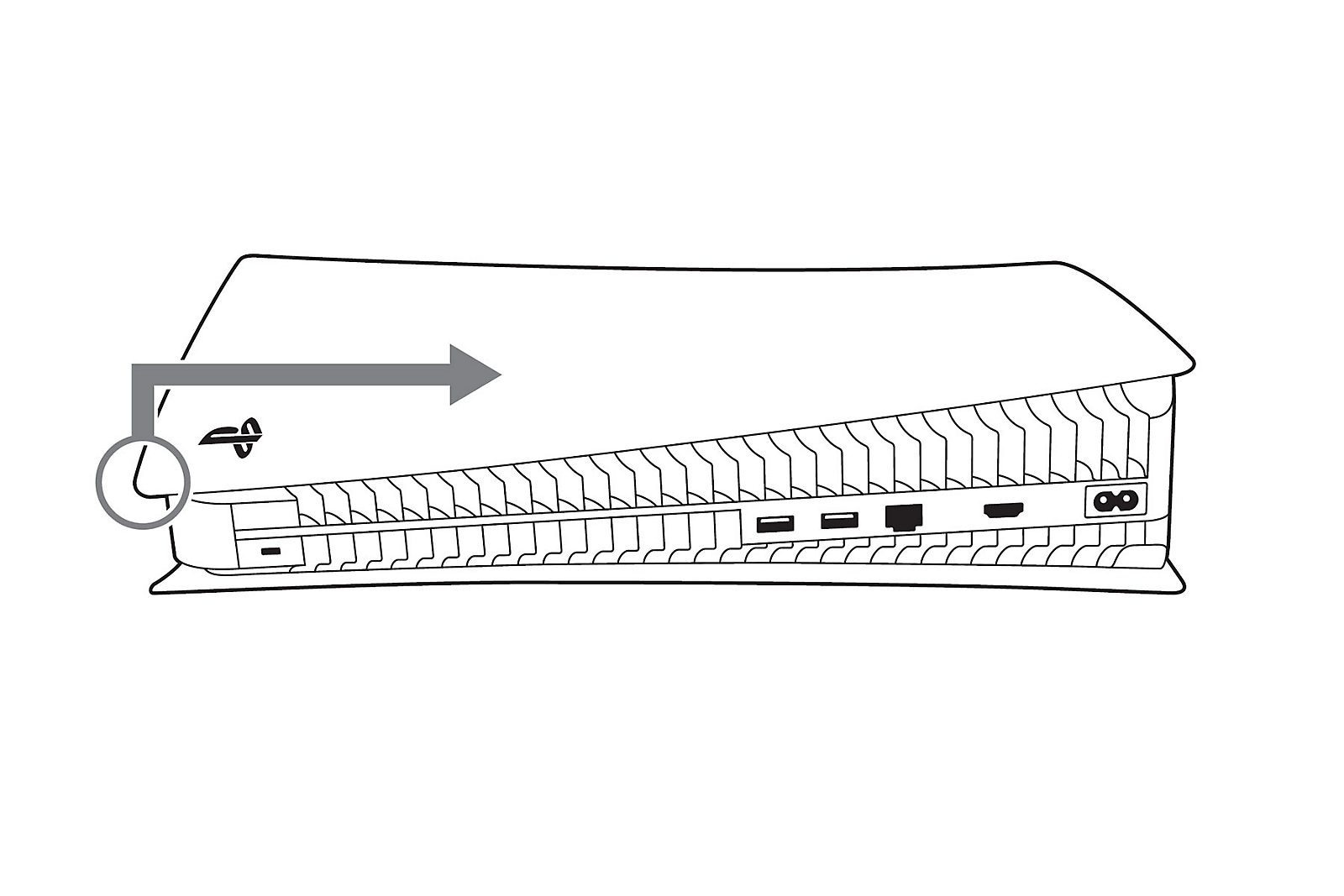 Step 3: Locate the M.2 SSD Slot
Find the M.2 SSD slot on the motherboard, located beneath the metallic shield. Unscrew the single screw securing the shield, and gently remove it.
Step 4: Install the PS5 M.2 SSD
With the slot exposed, identify the correct position for your SSD:
Determine the length of your M.2 SSD (80mm, 60mm, 42mm, or 30mm) and match it with the corresponding screw hole.
Unscrew the spacer from its default position and move it to the hole corresponding to your SSD's length.
Now, install your new PS5 M.2 SSD:
Hold the SSD by its edges and align the notches on the connector with those in the slot.
Insert the SSD at a 30-degree angle, applying gentle pressure until it's fully seated.
Press the SSD down and secure it with the screw you removed earlier.
Step 5: Reassemble Your Playstation 5
Replace the metallic shield, securing it with the screw you removed earlier. Slide the PS5 cover back on, ensuring it clicks into place. Reconnect all cables and power on your console.
Step 6: Initialize the M.2 SSD
Your new M.2 SSD needs to be initialized before use:
Navigate to Settings > Storage.
Select your M.2 SSD and choose "Format as Extended Storage."
Follow the on-screen instructions to complete the initialization process.
Congratulations! Your Playstation 5 M.2 SSD Upgrade is Complete.
Optimizing Your Playstation 5 Storage
Now that your M.2 SSD is installed, make the most of your storage space by organizing your game library and prioritizing the storage location for each game:
How To Move Games Between Storage: Navigate to Settings > Storage, select the game you want to move, press the Options button, and choose "Move Games and Apps."
How To Set Default Installation Location: Go to Settings > Storage > Installation Location and choose your preferred storage device for future game installations.
Troubleshooting Common M.2 SSD Upgrade Issues
If you encounter any issues during or after the upgrade process, try out the following troubleshooting tips:
M.2 SSD Not Detected: Ensure the SSD is correctly inserted and fully seated in the slot. Double-check that the SSD meets the required specifications.
Overheating: Verify that your SSD has an appropriate cooling solution and that it's properly installed. Consider upgrading to a more effective cooling solution if necessary.
Poor Performance: Confirm that the SSD's read speed is at least 5,500 MB/s. If it's below this threshold, consider upgrading to a faster model.
Maintaining Your Playstation 5 and M.2 SSD for Optimal Performance
Here are some maintenance tips that you should follow to ensure your PS5 always runs smoothly:
Regularly Update Your PS5: Stay up to date with the latest system software updates to ensure optimal performance and compatibility.
Clean Your PS5: Dust and debris can accumulate over time, so clean your console regularly to maintain proper airflow and prevent overheating.
Monitor Storage Health: Keep an eye on your M.2 SSD's health by checking for any performance issues or errors in the PS5's storage settings.
Conclusion:
Congratulations on successfully upgrading your Playstation 5 with an M.2 SSD, you're in for an enhanced gaming experience. Your upgraded console will now provide you with increased storage space, allowing you to install more games, apps, and other media. Not only that, but your PS5 will also run more efficiently with faster load times and snappier navigation thanks to the improved performance that comes with the M.2 SSD upgrade.
You're now fully equipped to expand your game library and dive into the latest and greatest titles. With all this extra space, you won't have to worry about deleting games to make room for new ones anymore. Plus, you can enjoy playing your favorite games with seamless performance and no lag. Happy gaming!
Sara's love for the wizarding world is so intense that she's probably mastered the art of Accio-ing pizza right into her mouth. When she's not busy casting spells, you can find her jumping through obstacles and collecting wumpa fruits in the colorful world of Crash Bandicoot.
But don't be fooled by her love for magic and video games, she's also a wordsmith extraordinaire, and her love for Ratchet and Clank is almost as strong as her love for butterbeer.
So whether she's slaying dragons or crafting the perfect sentence, Sara is a true geek at heart, with a passion for all things imaginative and hilarious.