Insomniac's Spider-Man 2 Swings Onto PS5s This Fall
PlayStation's May 2023 Showcase introduced the eagerly anticipated Marvel's Spider-Man 2 for PS5, marking the first featurette in almost two years. Even though Wolverine's absence was disappointing, all eyes were naturally on Peter Parker's next adventure.
The reveal for Spider-Man 2 lasted about 12 minutes but addressed everything from the graphics and gameplay to the story. For the most part, it looks as good as everyone had imagined, but the release is still further out, so Insomniac Games has a lot of time for a final polish.
Come launch day, praises will be sung, and critics will be dishing out 10s, unlike Finalboss who isn't biased — wink, and my personal favorite, the "10 million copies sold" flier by the PlayStation Twitter account after 3 days of the game's release, albeit all are well-deserved.
However, for those curious about why Marvel's Spider-Man 2 is a predetermined success, this deep dive into its release date and gameplay will clear things up. 
The Anticipated Marvel's Spider-Man 2 Release Date on PS5
Marvel's Spider-Man 2 is scheduled to be released on October 20, 2023, for the PS5 exclusively. The announcement confirming the release date was made during Summer Game Fest (SGF) 2023 when Creative Director Bryan Intihar came on stage, spoke about how Insomniac felt confident at getting the game out this October and gave us a few new sneak peeks at Kraven, Venom, and the titular arachnids in concept arts.
Rumors suggested an earlier launch for Spider-Man 2, but the strategic October release cleverly positions it after Xbox's highly anticipated Starfield, which is set to debut in September.
Voice Actor Stated Release Was In September
In March 2023, Tony Todd, the voice actor for Venom in Spider-Man 2, tweeted the following:
"Looks like September! Massive publicity coming in August….."
Shortly after Tony deleted the tweet, arousing further suspicion that the release window may have been leaked. I see no reason that he could've lied, so regarding the current October release date, Insomniac may have internally delayed the game for further enhancements.
Reports of Assassin's Creed: Mirage getting internally delayed flooded in from insiders around the world too. So Spider-Man 2 going the same route isn't surprising since Sony never compromises on quality, which former God of War developer Rafael Grasseti nodded to as well, stating Sony recommends that 90 Metacritic scores should be aimed for.
State of Play In September 2023
Apart from the Starfield "threat" in September, and the possibility of Insomniac needing more time, one recent rumor states Bloober Team's Silent Hill 2 Remake launches on September 29, 2023, so maybe PlayStation moved the Spider-Man 2's internal release up because of that.
In any case, October's still set as the official release month which all but confirms a State of Play will happen in September 2023 in which both Spider-Man 2 and the Silent Hill 2 Remake could be featured.
That perfectly aligns with the huge promotional campaign already stated to be coming by Tony Todd.
Spider-Man 2 Will Actually Kick-off The PS5 Generation
Forspoken, Final Fantasy 7, Ratchet and Clank, all are great games, but to be frank, not as amazing — pun intended — as Marvel's Spider-Man 2 is going to be in terms of utilizing the PS5.
Even God of War: Ragnarök on PS5 was just a performance-enhanced version of the PS4 release, while Returnal, Ghostwire: Tokyo, and The Last of Us Part 1 are more on the "we need exclusives for the PS5 because it doesn't have any" spectrum rather than the PS4 not being capable enough to support them.
Believe me, if the PS4 can run Hogwarts Legacy, then those three aren't any exceptions.
Surprisingly, word on the street is that the PS5 Pro might be around the corner, which is absurd since we've barely had any PS5 AAA games.
Sure, there have been some, but nothing is as giant as the leap we've seen between God of War: Ascension and God of War 2018, or Batman: Arkham City and Batman: Arkham Knight for instance that happened when we switched from the PS3 to the PS4 era. Spider-Man 2 in all honesty looks to be the first game ever that's going to do so, and that's why excitement has never been higher.
The Great Hunt Begins, New Venom Origins
Despite not lifting the curtain too much, the recent trailer for Marvel's Spider-Man 2 featured interesting story and gameplay moments. Spider-Man 2018 picked things up from a preset universe where Peter was in the eighth year of his vigilantism and he had to take down the infamous Sinister Six, along with other foes. Insomniac already went all-out, so it'll be difficult to top that, but Kraven's menacing introduction has instantly set a vibe for the sequel.
Kraven presumably arrives in New York in search of "worthy prey", and sometime later, Miles, Peter, Black Cat, and everyone else is being hunted. It's hard to tell, but there might be a short time skip in Spider-Man 2. Peter also obtains the Symbiote Suit during this time, while Miles' bioelectric powers have sprouted further, both of which contribute to the story and add a new layer of combat.
Venom's Not Eddie Brock
Judging from the trailer, Peter and Miles will probably take on Kraven when the Symbiote Suit is still in play. Peter might then get rid of it since it's changing him, and the Symbiote ends up bonding with the next user, aka Venom who isn't going to be Eddie Brock as confirmed by Brian Intihar during SGF.
That's an unanticipated yet awesome detail. As per the studio, they want to tell something original, so that's what they've decided, and it makes me wonder if sound will be Venom's weakness.
We don't have a clue yet on who the mystery person could be, but fans have some wild guesses that it could be Harry, Norman, a new character, or perhaps even Kraven, which would fit since Venom in Spider-Man 2 is around five times the size of Miles and Peter. However, the latest story trailer does imply heavily that it's Harry, but Insomniac might pull a fast one on us.
The villains confirmed for Spider-Man 2 include Black Cat, Lizard, Prowler, and Wraith, while others such as Kingpin and Taskmaster will likely return.
Rumors about the Green Goblin appearing have spread online too. Long ago a concept art had leaked in which the Green Goblin was attacking a high school, probably where Miles studies, but its credibility is questionable.
Venom's inclusion also has me contemplating whether Carnage is totally out of the question. Every PlayStation first-party has a habit of putting a twist near the end, so I won't be surprised if Carnage turns out to be a major antagonist.
Gameplay Is Twice As Good And Fast In Marvel Spider-Man 2
Right off the bat the biggest new feature in Spider-Man 2 is being able to play as both Miles and Peter. You can switch between both characters instantaneously with a press of a button — not shocking though as GTA V did that with three characters over a decade ago.
The Symbiote Suit for Peter introduced an additional layer of combat. Pete shoots out tentacles to help him during fights now, so taking out multiple foes in stealth and melee is going to be a breeze. As for traversal, that's still a mystery. Miles on the other hand has an upgraded utility belt with quirky new gadgets, and apparently, both Spider-Men can fly through New York with the help of the new Web Wings.
Web swinging is twice as fast too, thanks to the PS5's SSD, and thanks to Insomniac dropping the PS4. Safe to say Insomniac hasn't pulled any punches developing Spider-Man 2, making it there — you know how the saying goes — "most ambitious game to date".
Pick Your Poison: Standard, Deluxe, Or Collector's
Amidst the recent announcements of many AAA games going all digital like Alan Wake 2 and Like A Dragon Gaiden: The Man Who Erased His Name, Marvel Spider-Man 2, fortunately, won't be doing so.
The Standard Edition as you'd expect will retail at $69.99 for both physical and digital, while the Deluxe Edition, which includes some cosmetics for Miles and Peter, can be grabbed digitally only at $79.99.
The Collector's Edition costs a whopping $229.99 which includes two additional items; a Steelbook case, and an epic Spider-Men vs. Venom statue.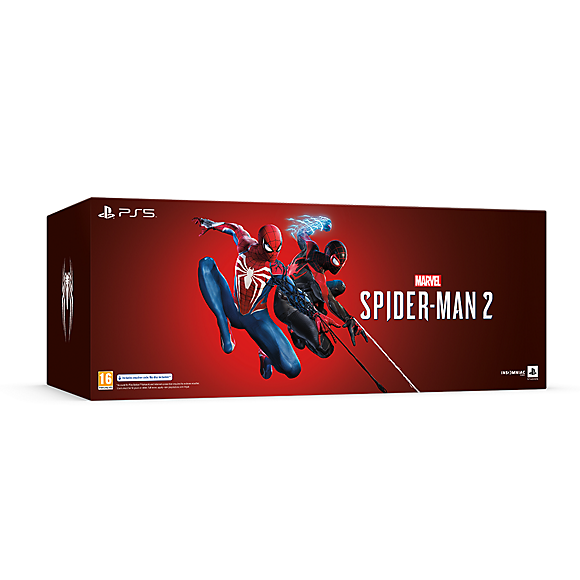 But here's the catch, the Collector's comes with a digital code for the game, so you have nothing to put in that sweet Steelbook case. It's like companies want you to buy a standard edition too with the "premium experience ", so for me this is a hard pass but I understand if someone wants that sick statue.
Though the PlayStation Showcase wasn't as exciting as people hoped due to the severe lack of first-party exclusives, Spider-Man 2 managed to keep the embers burning.
An in-depth overview of the game might be coming this September before the official release on October 20, 2023, so you'll have to hold on until then. But our friendly neighborhood Spider-Man hasn't been the only highlight of the year.
Chinese developer S-GAME's Phantom Blade 0 has left many gamers awe-struck because of its numerous unique features, and if you'd like to know more about this uncanny action RPG, head over here.
Tayyab's an anime & gaming enthusiast, and since he can't make them (yet), he loves to write about why he finds them amazing.
Also, he's a huge Hideo Kojima fan, and everything else that's Japanese for that matter.