1992s Candyman, directed by Bernard Rose, is a picture that meant well, but only came off as inconsistent and unsure of itself. Based on a novella by Clive Barker, Candyman the movie updated its premise, re-locating its narrative to a current-day black neighbourhood in a poor Chicago. The Candyman himself, played originally by Tony Todd, with his hook for a hand (a product of so many campfires) and thrift store fashion was a grab bag assortment of a villain that aimed to create conventions for the genre, whilst simultaneously feeling like it was also stealing from everything that had come before it. For better or worse, Candyman at the very least created representation within film and within an otherwise very white genre, and showed everyday people in lower-class locations in an unthematic and wildly unglamorous way. It was a movie, however, unclear in itself and misguided in its own existence.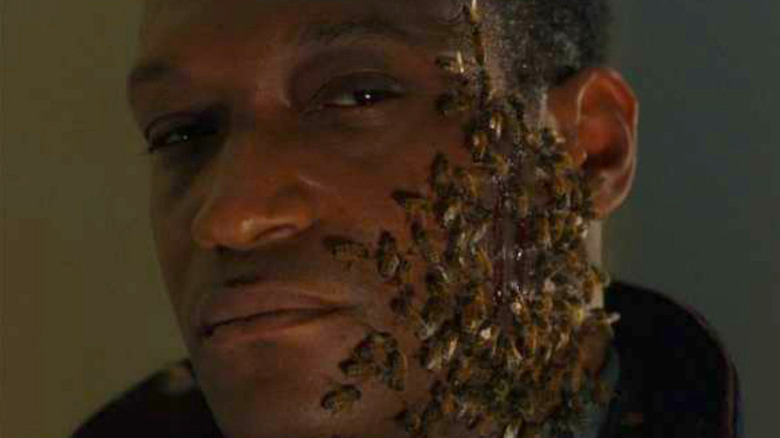 Now almost exactly 30 years on, Nia DaCosta brings us an updated take on the tale. With a script co-written by the GOAT, Jordon Peele, 2021s effort focuses on an artistic couple having moved into a new up and coming neighbourhood. Painter, Anthony McCoy (Yahya Abdul-Mateen II) is struggling for inspiration but happens upon the urban legend of the Candyman, a serial killer, known well in this particular Chicago area…
Buy Candyman 1992 Amazon US | Amazon UK
What this feature does do so well, is its assuredness in continuing the original's legacy. Not knowingly marketed as such, 2021s effort of the same name is a light sequel to the original movie, using it as a stepping stone, and filling in the gaps 30 years on. DaCosta's vision does not make you rely on having seen the original, but certainly has great respect for it, only prepared to move the story on in an updated and more current manner.
In a movie so concerned with art, both embracing the scene and mocking it in equal measure, like a canvas with a perfectly placed brush, it succeeds in certain spots. Now mostly gentrified, Chicago's Cabrini-Green neighbourhood is a strange and art-deco place to live with high ceilings and spacious lush apartments that twist and manipulate its architecture, making its inhabitants look small and out of their depth constantly, and is a stark contrast to the original's also unique dilapidated buildings caked in graffiti and condemned with holes. This, alongside the silhouette driven puppetry (used to break up the action and fill in the back story), is candid and suggests a sense of real care, a quite literal hands-on love, and is a creative decision that sincerely works here. Despite these segments being creepy throughout, the puppetry is childlike and mischievous and is such a refreshing fairytale-esque delight to watch in such a big event movie.
In any movie featuring an artist as its main character, the subject matter will always reflect the outside creators as well. McCoy is known as this contemporary voice for black art. His previous must see artwork, witnessed only briefly, includes black torsos with nooses for neckties, and as the story continues McCoy only becomes more embroiled in the Candyman, as its lore influences his artwork and then seeps into his life.
Candyman at the end of the day, however, is a murderer who dispatches his victims in the most brutal and bloody of means. It is indelicate and in your face, brash even. And that roughness, unfortunately, reflects the commentary in this newer take on the story. With Peele having co-written and produced this picture, his production company MonkeyPaw heavily involved, and having created two features side by side that will be talked about for the next 50 years, honestly I expected more.
How the cinematography of Prime Video's Them highlights racism
This Candyman comes off as basic by comparison. Get Out and Us cleverly navigated the race relations deftly and uniquely both in their own ways: please see side characters like Elizabeth Moss who made up those worlds, who also happened to be snide and conniving before being revealed as outright villains. Here, the supporting cast feels outright repugnant.
I've got to add how unconvincingly scary it was as well. Lazy jumpcuts are not opted for, thankfully, but a real sense of dread is not achieved either at any point throughout, instead relying more so on its gory segments instead to bring the fear. It just about works, if that's your thing, but again lacks the finesse of Peele's other pictures.
Steady throughout, Candyman really trails off in its final act. With a scene at a high school that entirely took me out of the experience to the point where I became that one emoji of the guy shrugging in the direction of my cinema screen. Obviously, in there to help accomplish a trailer's run time and to bring in a younger audience, it is entirely unnecessary and frankly should have been straight cut from the film.
Unfortunately, Candyman does not work as a social commentary, nor a slasher but rests in some wayward limbo. By the time that the law enforcement do actually arrive the movie becomes entirely heavy-handed and on the nose, with any hard work done previously feeling now undone. This movie feels like there is a 30-year reflection of an IP that for some reason feels needs to be respected, despite always being a relatively average movie even in the 1990s. Candyman 2021 can't seem to grasp what parts of the ever-changing urban legend it holds on to and what it kills and it suggests, again, filmmakers trying to build on a villain that was paper-thin in the first place.
Then again perhaps in a current day world where the media has never had more coverage on the plight of the black man, and yet chooses intentionally to not talk about it/cover it up, perhaps a heavy-handed approach is necessary to get such a point across when discussing the importance of black lives, even if it is through the guise of fiction.
Pre-order Candyman 2021 from Amazon 
If you enjoyed this article, check out more of our movie content!
Jon Holmes is a writer based in the UK. Alongside his work writing for film, he is a multi-accoladed filmmaker in his own right, and also performs. He can be followed on Youtube at Hans HS and on Twitter on @jonnyjonjon1